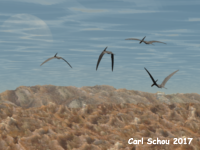 The Hills of Convergence
In a land of tooth, bone, and stone, two groups of travelers on different paths converge on a common destination...

The Pteranodons were modeled in Hexagon, and the landscape was generated in Carrara using an image of tree bark to build the terrain. This picture is dedicated to Carolyn, whose interest and encouragement helped make it possible.